INTRODUCTION
Light and Darknesss unite in the Unity of Light and Darkness CCG Booster! The first GMOC Incorporated Booster. This set heavily focuses on combining the best properties of the Light and Dark Attribute monsters and the new MULTITYPE monsters!. Also introduces the new Devils and Backwards monster card Archtypes.
CARD RARITY RATIO
Common - 9:1
Rare - 1:1
Super Rare - 1:5
Ultra Rare - 1:12
Ultimate Rare - 1:36
Secret Rare - 1:24
NOTE
If there isn't any rarity beside a card name it is a common card.
SPOILER CARD LIST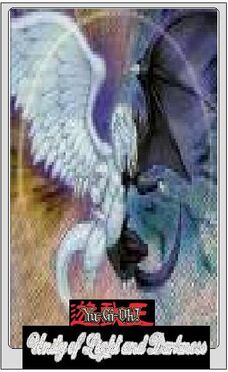 UoL/D-EN000 - Overlord of Light and Shadows (Secret Rare)
UoL/D-EN001 - Overlord of Light and Shadows
UoL/D-EN002 - Foot-Man of Light and Shadows (Rare)
UoL/D-EN003 - Shiny Army of the Shadow Realm
UoL/D-EN004 - Light and Darkness Dragon (Ultimate Rare)
UoL/D-EN005 - Light & Darkness Dragon #2 (Ultimate Rare)
UoL/D-EN006 - Shadow Army of Heaven
UoL/D-EN007 - Corrupted Angel
UoL/D-EN008 - Pure Devil
UoL/D-EN009 - Devil Soldier Kazama
UoL/D-EN010 - Devil Soldier Kazama #2
UoL/D-EN011 - Devil Soldier
UoL/D-EN012 - Devil Wanderer
UoL/D-EN013 - Devil Captain Mishima
UoL/D-EN014 - Grand Devil Master Jingaioh (Ultimate Rare/Super Rare)
UoL/D-EN015 - Elemental Hero Super-Nova
UoL/D-EN016 - Cyber-Hero Blade Master
UoL/D-EN017 - Cyber-Hero Turret-Man
UoL/D-EN018 - Cyber-Hero Aqua Soldier
UoL/D-EN019 - Cyber-Hero Flame Vanguard (Super Rare)
UoL/D-EN020 - Cyber-Hero Flame Blaster (Rare)
UoL/D-EN021 - Cyber-Hero Mecha-Claw
UoL/D-EN022 - Cyber-Hero Shark-Blast-Man
UoL/D-EN023 - Jormugand, the World Serphent
UoL/D-EN024 - Undefined Onyx Bear
UoL/D-EN025 - Beaked Snake (Alternate Art)
UoL/D-EN026 - Crystal Beast Onyx Snake
UoL/D-EN027 - Dugoroziouro, the Dragon Lord (Ultimate Rare)
UoL/D-EN028 - Synchro Blaster Enitaya
UoL/D-EN029 - Enitaya Synchron
UoL/D-EN030 - Grand Dragon Master
UoL/D-EN031 - Elemental Hero Supernova (Ultra Rare}